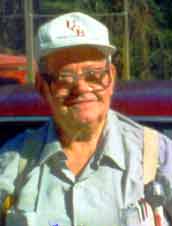 ABOUT THIS SITE
- An Introduction

Praise the Lord, brothers and sisters in the Lord:

My name is Brother Paul Smarse. I came into the Message back in 1969, and as I studied the Messages. I'd run across a Quote that I liked. I'd type it up, on an old 1925 typewriter, and share it with others that I knew. As my list of people grew, and my quotes grew, I got a mimeograph and would type on stencils, and run off 100 copies & mail those out. Finally I compiled a little 18 page Newsletter, with a couple of pages of coments, and all the rest were PURE QUOTES of the Prophet exactly as the Prophet said it.

A brother from Canada, really liked what I was doing and sent me a list of 20 names (overseas) that he wanted me to send these Quotes to. I was now with a Commodore 64 Computer, then to a DOS, then to a Windows 95 and finally to a Windows 98. The names really multiplied, so that now it's over 500.

Then I got a Methodist brother that would print the Quotes Books (now 75 pages of Quotes) for one third the price of other printers. But, the printing costs went up three times, and the postage really multiplied so much that it almost stopped me from mailing out Quotes Books. I had to drop down from 180 a month to about 30 to 40 Quotes Books a month.

Then about that time Brother Ronnie Millevo from the Philippines suggested that I put the Quotes on the Internet, and he voluntarily designed the ,"PURE QUOTES," Web-Site, a site which he personally maintains and updates from time to time free-of-charge. Now, people around the world can read, copy or print these Quotes freely on hundreds of subjects right from this site.

Why are my Quotes different? Because I'm not trying to push my doctrine. I just print what the Prophet said, usually both sides. I let the Word do the talking. I let God give you the revelation. I say what the Prophet said. When I do make a comment I'll put (Editor: then put this around them). Please check up on these Quotes to make sure they are right. Then you'll have confidence in them, and you'll do what God said do. Remember, it's death to add or take from the Word of God!

Yours in Christ's Service,
.....Bro. Paul Smarse.....