The Multimedia Program of the DLSU-College of Saint Benilde's School of Design and Arts
is offering
diploma
and
certificate courses
for working professionals, graphic designers, and individuals interested in pursuing their love of graphic design and art.
The multimedia program, which has produced graduates now working for graphic design firms, advertising agencies, and animation outfits among others, has
one-year diploma courses in Web Design and Animation, as well as 3D modeling and animation.
Late this year,
a one-year diploma
in
professional photography
anda
one-year diploma in 2D animation
will also be opened to the public pending the approval of TESDA accreditation.
With eight sessions, at three hours per session, the certificate program is concise and information-packed. A team that studied these programs recently produced "Adapt," the overall winner in the animation category at the recently concluded Graphic Expo 2003.
Certificate courses offered include Adobe Photoshop, Adobe Premiere, Adobe AfterEffects, Alias/Wavefront Maya, Macromedia Dreamweaver, Macromedia Director, and Basic Photography. Interested parties may contact Nitz at 526-7441 loc. 180 or send an email to tubisn@csb.dlsu.edu.ph.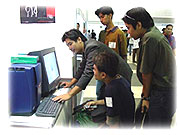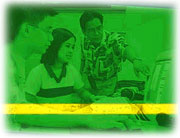 To Reserve, Call Hotline:
Nitz at 526-7441 Local 169