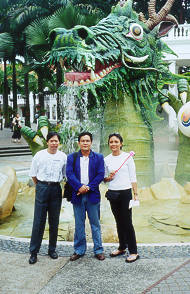 A stroll at the famous Sentosa island. Shown is Ram Nolasco, chaiperson for DLSU-CSB's multimedia, Ronnie Millevo, for web and interactive publishing, and Vanny Puente for Audio-Video Production.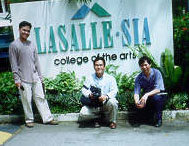 A still shot at the La Salle-SIA gate and landmark (Cary, Ronnie & Ram).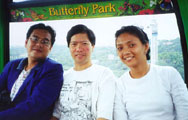 A photo taken riding up the cable leading to sentosa island from the Singapore World Trade Center.
To email us, send to:
nolascor@csb.dlsu.edu.ph
millevor@csb.dlsu.edu.ph
santosc@csb.dlsu.edu.ph
puentev@csb.dlsu.edu.ph

We wish to thank all the people who have extended their full support to our recent visit to the schools in Singapore - the La Salle-SIA and Temasek Polytechnic University, and especially to Apple Philippines personnel as well as the tour guides in Singapore... We sure appreciate your kindness and hospitality. - from the De La Salle-College of Saint Benilde, Multimedia Arts Department, Manila, Philippines (Cary Santos, Vanny Puente, Ronnie Millevo and Ram Nolasco).


A meeting with the La Salle-SIA president, Fine Arts chairperson and Multimedia coordinator, along with Gerard of Apple Singapore.

more La Salle-SIA photos...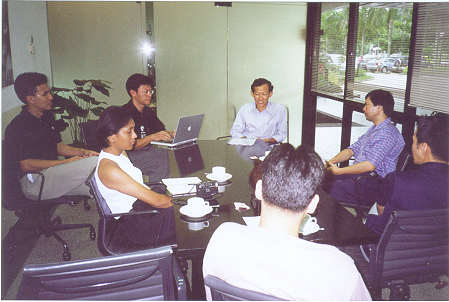 A consultative meeting with the Apple Singapore & South Asia chairman Darky and other personnel regarding key issues on Apple's educational package. .... more Apple tour photos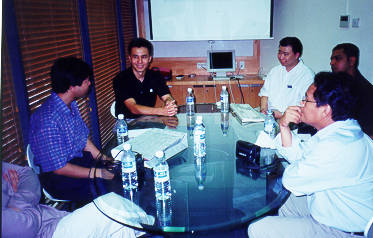 An orientation meeting regarding Temasek Polytechnic University's art and design goals. Shown at far right is Valentino Chan, chairperson for TPU's Design Department. ....more photos on Temasek visit
Copyright © DLSU-CSB Multimedia Arts 2001
Web Layout by Ronnie Millevo