OUR OBJECTIVE AND VISION:
Proverbs 29:18
"Where there is no vision, the people perish. . ."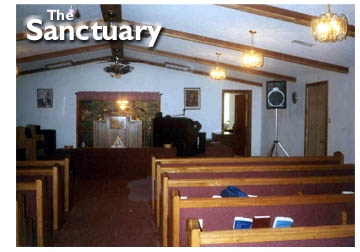 We are an interdenominational church preaching and teaching the end time message of the Lord Jesus Christ as delivered by His prophet Bro. William M. Branham. May the Light of Christ shine forth so brightly from our lives with such brilliance and radiance that our voices reflect our beliefs accordingly.
REV.CHAP.4.PT.3.THRONE.MERCY JEFF.IN ROJC 645-716 61-0108
Bro. William M. Branham stated: ". . . Oh, how we need in Jeffersonville thousands of lived voices, the thunder of God thundering out in sweetness, and holiness, purity, undefiled lives, walking around in the earth today without a blemish. Yes, sir, real Christians, that's thunder against the enemy. The devil don't care how loud you can holler; the devil don't care how much you can jump, how much you can do this or shout. But what hurts the devil is to see that sanctified, holy life consecrated to God; say anything to him, call him anything, just as sweet as it can be and move right on. Oh, my. That throws him away; that's the
thunder that shakes the devil."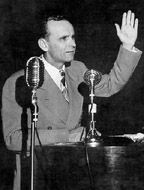 Reverend William Marrion Branham

Powered by
MillevoMedia
. All Rights Reserved. Copyright BOH Smeton 2003.